Guidelines for a Winning Sales Strategy
Sales Strategy Guideline
Have you ever heard the statement "the product sells itself"?
It couldn't be more incorrect. It is always an excellent sales tactic that causes any product to flee the shelves.
A sale is one of those fields that anyone from any background may enter. There is no requirement for formal education or even sales experience. But you can't jump in without any knowledge of the industry
Creating a sales plan is unique to each company. It is a tried and true process that consistently generates transactions and revenue. It may appear to be a concept that major corporations toss around. A great sales plan, on the other hand, may help everyone from a small business owner to a large corporation.
According to research resource, the majority of sales representatives (74%) are clueless about what they're doing in their jobs. Only six percent can be considered "elite," or truly exceptional.
What Is a Sales Strategy?
A sales strategy is a detailed, step-by-step plan for positioning and selling a product or service in order to earn ongoing and additional income.
A sales strategy is an individual or company's plan to sell items or services in order to create and increase revenue. It allows you to successfully sell your products or services again and over again. To achieve the intended results, this method is regularly tested, analyzed, and optimized.
Why Do You Need the Sales Strategy?
When you create a winning product or service, sales are the ultimate measure of its success. Many business owners are overly concerned with product development and developing a marketing strategy, leaving little room for developing and refining a sales strategy plan. This is a costly mistake.
To understand why first differentiate between a marketing strategy and a sales strategy:
A marketing strategy aims to increase the visibility of a product or service.
A sales strategy focuses on selling the product/service.
A sales strategy is focused on making real, measurable earnings. Whatever your product or marketing strategy is, it will be for nothing if your sales process fails to create results.
To reach the point where you can consistently produce the necessary outcomes, you need a well-defined sales strategy that incorporates your marketing strategy.
A Sales Strategy Helps
Understand your USB (unique selling point)

Identify your target market

Develop your pitch

Identify the best sales channels

Approach the prospects in a tested method
Covering the above steps allows you to:
Modify who your customers are and how you approach them,

Address their needs at every point of their buying journey,

Find the right sales rep to help you to achieve your targets,

Fine sales tactics and establish a clear sales process,

Have recurring and increasing ROI
When executed well, a strategy provides your sales team with a clear focus and enables you to grasp opportunities
What are the Types of Sales Strategies?
There are two sorts of sales techniques that a company can use: inbound sales and outbound sales. Some organizations may decide to use both. Based on this, your sales strategy will vary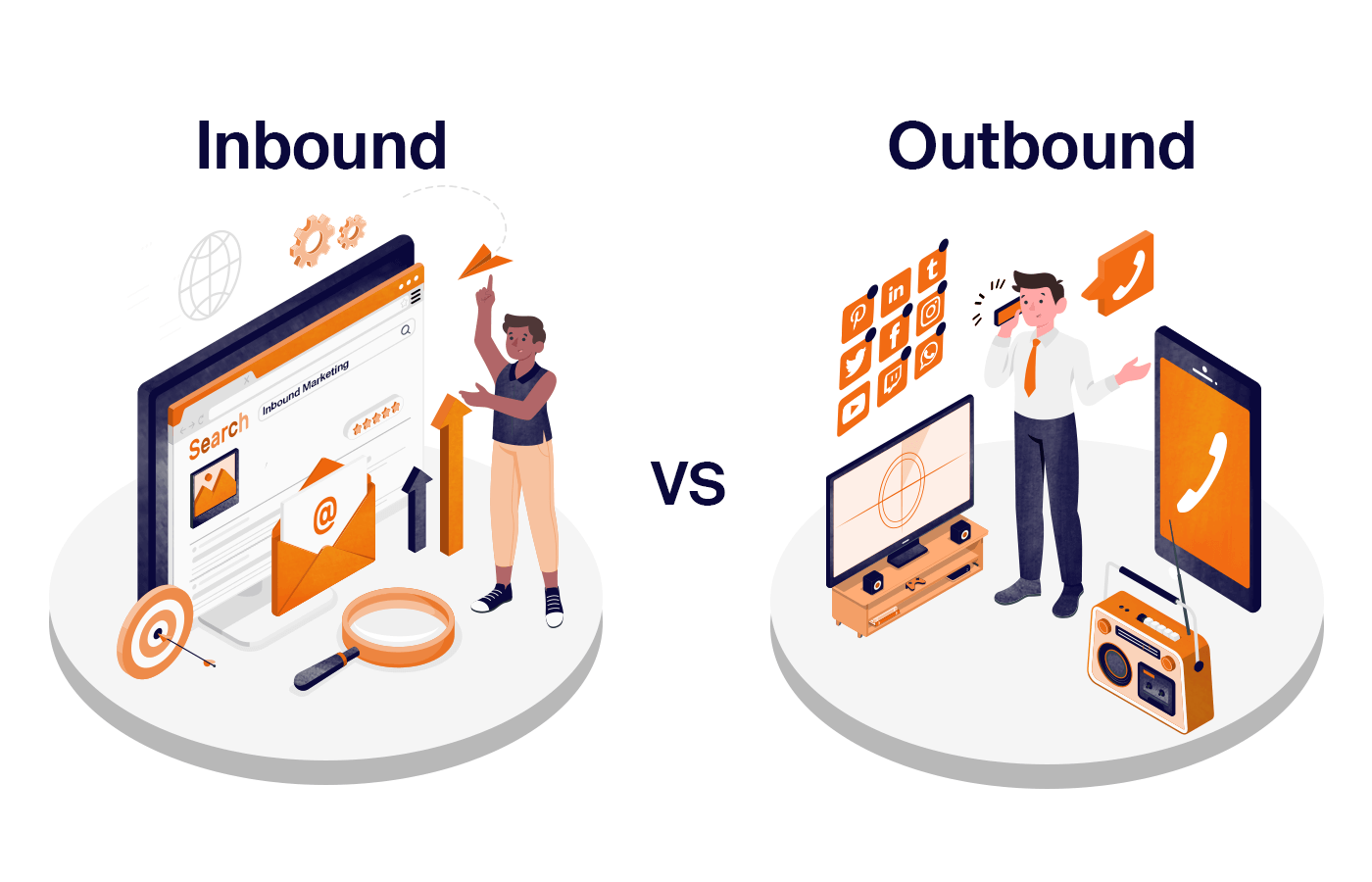 Inbound sales strategies
Inbound approaches comprise bringing customers to your website. They would already have a general understanding of your organization and service.
Inbound sales methods are linked to inbound marketing strategies, in which marketing teams acquire prospects through internet content.
Creating a website, creating blogs, and optimizing web pages to rank in SERPs is all methods to persuade and educate potential buyers about your product/service.
Prospects using this strategy are actively looking for a solution or information about their problem.
As a result, they are more likely to buy from you. At this point, your salespeople serve as advisors, educating prospects, responding to their questions and concerns, and guiding them through the decision-making process.
Prospects may become new clients as a result of these interactions.
Outbound Sales Strategies
While inbound sales methods attract the ideal clients who are interested in your product, they may not necessarily bring in enough income to cover your costs. And the success of your company is dependent on clients finding you.
Outbound sales methods, on the other hand, enable you to reach out to potential consumers, spread the word about your product or service, and eventually sell to them.
This method is predicated on knowing who your prospects are. As a result, training your sales team with Buyer Persona (BP) and Ideal Customer Profile (ICP) documentation is the first step in developing an outbound plan.
This is followed by developing lead-generating techniques to produce qualified leads for your salespeople to interact with.
To grab your prospect's attention, your salespeople will use numerous prospecting strategies such as cold calling, cold emailing, and social selling on LinkedIn.
Once you have their attention, use a dynamite sales spiel to attract their interest and complete the deal.
It is easier to scale your firm with the outbound method if you learn what outbound techniques work for you.
DO READ 
Which Is Better For Sales Prospecting: Warm Leads Vs Cold Calls?
Continue to visit our blog area to discover more about the latest updates, Real Estate News. Also, stay up to date by subscribing to our, YouTube channel, Facebook, Instagram, and Twitter handle. You may contact us at hello@landster.pk if you have any questions or comments.