Landster Villas: Beyond Reality
The Project By Landster Group of Companies
Landster Group of Companies has emerged as a prominent player in the real estate industry, with a clear focus on achieving its objectives and meeting the needs of its clients.
It's been a FIRST Real Estate Company in Pakistan to promote tourism in the Khyber Pakhtunkhwa (KPK) through its real estate projects, with a strong presence in the real estate world.
Landster Group of Companies is poised to make a significant impact on the industry in Pakistan and beyond. Landster intends to continue expanding by providing clients with high-quality services.
Landster Group of Companies has set a new standard for luxurious living with their classical and modern design villas in Bahria Town, Phase 8, Islamabad. These villas offer a unique combination of luxury, comfort, and security, making them the epitome of elegance and sophistication.
About Landster Villas
Landster Villas are situated in the heart of Bahria Town Phase 8. It is close to restaurants, coffee bars, and shops, yet has a private, walled garden that protects it from noise and curious passers-by.
Landster Villas offer the possibility of relaxing in a private niche located in a luxury environment with specified styles including Classical and Modern themes. Landster villas is a project of the Landster Group of Companies and marketed by Urban Arts which offers a variety of 5 Marla, 7 Marla, and 10 Marla Villas.
Why Bahria Phase 8
One of Rawalpindi's best-known real estate developments is Bahria Town, largely because a few projects can match it in terms of lifestyle facilities. Phase 8 is the most crucial of the project's several phases because all the other phases in Bahria Town have been finished and given over, and as a result, their property values have reached their peak.
Phase 8 is thought to be a significant Bahria development in Rawalpindi, which is still in the early stages of construction and offers some good investment prospects. Phase 8 contained everything, including colleges, universities, schools, and a cricket stadium. Like every other top-tier enterprise, Bahria Town continued to develop. To better serve its people, Bahria Town has attracted nearly all well-known companies to Phase 8, including a world-class gold standard cinema (Cine Gold). Currently, they are building Pakistan's first international quality theme park. Phase 8 has fresh chances as it was recently announced that Rawalpindi Ring-Road would be built behind Bahria Town Phase 8, and it is once again the preferred option for investors and people looking to buy a property in the twin cities.
Types of Villas
The classical and Modern villas come in three different sizes: 5 Marla, 7 Marla, and 10 Marla, providing a wide range of options to cater to different family sizes and lifestyles. The exterior of these villas is designed in both vintage and modern styles, with intricate sophistication and elegance.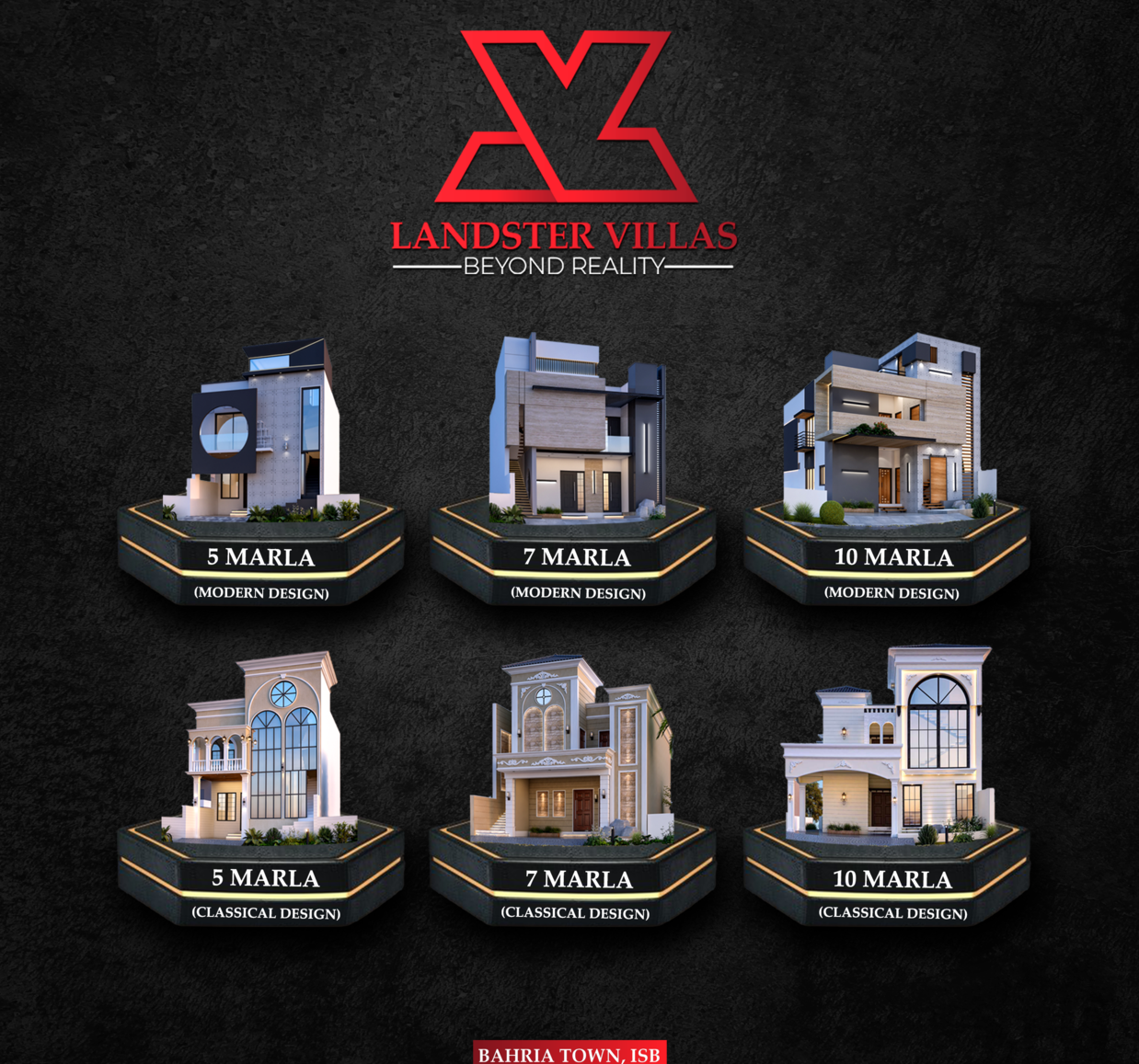 For those looking for a more contemporary design The interiors of these villas are equally impressive, with spacious rooms, high-quality finishes, and modern amenities that provide comfort and convenience. The living areas are designed to maximize natural light and ventilation, creating a bright and airy atmosphere that is perfect for relaxation and socializing.
In addition to the luxurious villas, Landster Group of Companies provides a safe and secure environment for its residents. Bahria Town, Phase 8, Islamabad is a gated community with 24/7 security, ensuring the safety and well-being of its residents at all times.
Residents of Landster Villas also have access to a range of amenities, including parks, schools, hospitals, and shopping centers, making it an ideal location for families and individuals looking for a comfortable and convenient lifestyle.
In conclusion, Landster Group of Companies has created a truly unique and luxurious living experience with their vintage and modern design villas in Bahria Town, Phase 8, Islamabad, which offers the perfect combination of luxury, comfort, and security, making them the epitome of elegance and sophistication.
Trust us, you don't want to miss the chance to invest here!
𝗕𝗼𝗼𝗸𝗶𝗻𝗴 𝗦𝘁𝗮𝗿𝘁𝗶𝗻𝗴 𝗙𝗿𝗼𝗺 𝟭𝟱%
Buy your holiday home at LSHA.
If you have any queries, write to us at hello@landster.pk. Also, keep checking Pakistan's largest property blog, Landster Blog, for the latest news on Pakistan's real estate sector.