Blue And Green Line Metros Will Operate Alongside Traffic Until Dedicated Tracks Are Built
Islamabad: CDA has planned to start the Blue and Green Line Metro Bus Service with regular traffic until new designated tracks are constructed, reported a news source.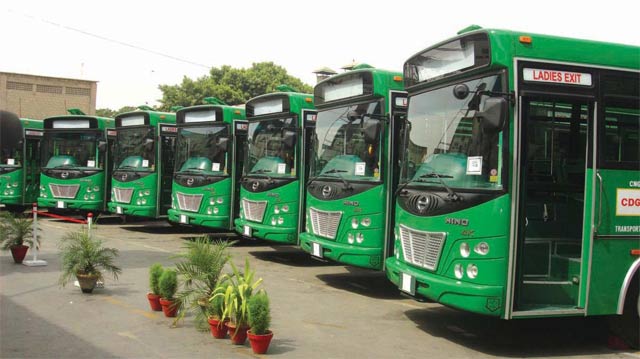 The Blue Line would travel Korang Bridg0e Expressway to Faizabad metro bus station, while the Green Line will run from Bhara Kahu to the Pakistan Institute of Medical Sciences (PIMS).
It will then connect to the Rawalpindi-Islamabad metro bus route.
In the beginning, only five buses would run on the Green Line and ten on the Blue Line due to mis traffic. The buses will not yet have defined tracks because the CDA will begin these services in two months.
DO READ 
CDA Developed Around 50 Parks In Islamabad
CDA Metro Bus Service Director Nauman Sheikh stated that initially, the new metros would operate on the current expressway and Murree Road. Separate tracks for buses could be built later if necessary.
He stated that at first, the new metros would operate on the current expressway and Murree Road.
"If the demand arises, later on, we will create separate designated tracks", adding that all four metros Rawalpindi-Islamabad, airport, and blue and green lines will be integrated.
"Soon, a presentation will be given to the federal government and Prime Minister Shehbaz Sharif for a final decision on both the green and blue lines," said a CDA official.
Adding that frequent traffic congestion was observed on the two-lane Murree Road in Bhara Kahu area, which is why the buses were decided not to go through the Bhara Kahu bazaar.
"We will build a covered u-turn and a bus terminus for the green line on CDA-owned land near Bhara Kahu," he added
The National Highway Authority (NHA) oversaw the project, and last year, under the direction of the then federal government, the CDA took over and began the process of acquiring buses and establishing command, control, and ticketing systems.
Under the direction of PM Sharif, CDA made the airport route functional within five days, and, now the civic agency is taking steps to start the green and blue line metro services.
DO READ 
CDA Aims To Renovate The Faisal Masjid
Continue to visit our blog area to discover more about the latest updates, Real Estate News. Also, stay up to date by subscribing to our, YouTube channel, Facebook, Instagram, and Twitter handle. You may contact us at hello@landster.pk if you have any questions or comments.